Delhi is the capital of India so every day thousands of people interact so there is lots of turmoil and hustle-bustle of cities which sometimes gets on the stamina and the spirit gets entangled within thousands of new faces. A feeling is always there to run away from the turmoil to a place full of serenity that provides a calming retreat to the senses, body, and soul. If you are a lover of nature and love wandering in the hilly forests, then you are constantly searching for locations for self-care and the wonderful harmony of a soft breeze, birds chirping, and plunging waterfalls. So, you need a break in your weekends to travel nearby yet serene locations to calm your mind and refresh your soul.
Get a Question?
Do not hesitate to give us a call. We are an expert team and we are happy to talk to you.
List of 8 Best Hill Stations Near Delhi NCR-
1. Parwanoo in Himachal Pradesh
2. Nainital in Uttarakhand
3. Kasol in Himachal Pradesh
4. Almora in Uttarakhand
5. Nahan in Himachal Pradesh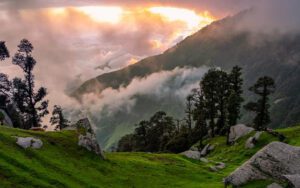 1.Parwanoo in Himachal Pradesh
Situated in the Solang Valley in the North Indian State of Himachal Pradesh, Parwanoo is a glorious hill station with attractive orchards, lush meadows, and bounded hills. Due to its pleasant climate and landscape, there are a bunch of naturally decorated places to visit here which attract a lot of adventure and nature seekers throughout the year. It is an ideal location for trekking, camping, and nature walks. You can moreover rejoice in cable car rides near the town through the Shivalik range, and experience the incredible panoramas of the surroundings that relieve your soul.
Nearby Attractions – Pinjore Garden, Kali Mata Temple, Mansa Devi Temple, Shri Balaji Temple, Gurudwara Nada Sahib, Dagshai, Cactus Garden, Gorkha Fort, Timber Trail, Baba Balak Temple.
2. Nainital in Uttarakhand
Nainital, the City of Lakes is surrounded by the great Himalayas all around- imagining the beauty is itself so beautiful. It is one of the prominent hill stations to visit near Delhi especially during weekends. Colonial structure bungalows have maintained their ancient elegance truly intact and the vivid markets provide a glimpse of the lifestyle and culture of the Kumaon people. The most wonderful memory is to walk down the Mall Road which is a must in Nainital. Spending quality time with family and friends while trying unique delicious street foods and cuisines is a treat. Boating in the crystal bright Naini lake is a must adventure as well as enjoying the dusk time by glancing at the mountains from the terrace of the room is a soothing experience.
Nearby Attractions – Naina Devi Temple, Mall Road, Naini Lake, Nainital Zoo, Eco Cave Gardens, Raj Bhawan, Snow View Point, Hanuman Garhi, Tibetan Market.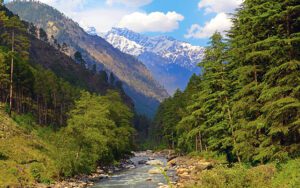 3. Kasol in Himachal
Some people are born with an addiction to explore the world, so for them, Kasol is one such location to enjoy simplicity and tranquility with a pleasant climate throughout the year. Set in the peaceful banks of Parvati River, the exotic small town of Kasol captivates a lot of people for its dramatic sceneries of picturesque terrains, adventure sports, magnificent Parvati Valley, enthralling trekking routes such as Kheerganga Trek, and mesmerizing temples. High-rise valleys with green grass, filling the entire view with lush green hues. Kasol is quiet, beautiful, and away from the crowds of the city.
Nearby Attractions – Parvati River, Tosh Village, Kheer Ganga, Tirthan Valley, Manikaran, Nature Park, Shiv Mandir, Manikaran.
4. Almora, Uttarakhand
Almora is also known as the Cultural Capital of Kumaon or Heart of Kumaon. Lying closely within higher peaks of the Himalayas enjoys a year-round moderate temperate climate. Flowing alongside the city are the rivers of Koshi (Kaushiki) and Suyal (Salmale) which offer a great site for visiting. You can easily plan a weekend trip to this beautiful destination. The royal palaces and monuments and colonial era buildings will carry you back to the era of emperors and dictators. The vivid Almora Bazaar is a must-not-miss where you can purchase quiet souvenirs to bring home.
Nearby Attractions – Bright End Corner, Almora Bazaar, Lakhudiyar, Kasar Devi Temple, Nanda Devi Temple, Martola, Kalimath.
5. Nahan in Himachal Pradesh
The intact and soothing traveler enchantment is a synopsis of bliss. Nathan in the Sirmaur district of Himachal Pradesh is perfect for a weekend trip near Delhi, this city confesses the history of colonial Sirmaur. A lion named Nahar used to live here with a sage, that's how it got this name. Decorated with many surreal and glorious temples as well as surrounded by the Shivalik range, Nahan in an authentic sense is a location for self-introspection.
Nearby Attractions – Renuka Lake, Suketi Fossil Park, Rani Tal, Renuka Temple, Kala Amb, Trilokinath Cave Temple, Mall Road, Churdhar Peak
Domestic Tour Operators in Delhi