India is blessed with lots of fast-flowing rivers nestled within high elevating peaks from all of its corners. Although adventure sport is a new trend in India it is rapidly becoming popular especially among the youths. If you are an adventure lover and want to get the thrill of letting yourself in the hand of nature where nature welcomes you in its way then water rafting may be the best choice for you where your adrenaline will be pumped up each rapid you pass. With gushing waters all around you, the splashes of water all over you, you will get the feeling of limitless joy that will create a permanent place in your remembrances. Whether you are a solo traveler or you are traveling with your friends and family, water rafting is a great opportunity you can put on your bucket list once in a lifetime. Here are some top destinations for water rafting in India that are getting more and more popular these days.
Get a Question?
Do not hesitate to give us a call. We are an expert team and we are happy to talk to you.
1.The Ganges, Rishikesh. Uttarakhand.
The best place for river rafting may be Rishikesh. There's little doubt about it as it's the hub of rivers. The almighty Ganges becomes whimsical at all four stretches with 13 rapids. The stretches are divided into four different parts, which include Brahmapuri to Rishikesh that covers 9 km, Shivpuri to Rishikesh is 16 km long, Marine drive to Rishikesh is 24 km long, and Kaudiyala to Rishikesh covering 36 km length. From easy to moderate to challenging rapids to allow you to choose out among them, which makes this optimum for enthusiasts additionally as experienced ones. Famous rapids with unusual names are the Wall, Roller Coaster. Some different rapids may encourage you, for example, Three Blind Mice, Golf Course, Return to Sender, and Double Trouble.
Preferable Months for River Rafting: September to November
2. Yamuna river. Uttarakhand.
No matter whether you're professional or amateur, Yamuna is hospitable to all. The best destination for rafting is just after the Ganges. There are two stretches – one from Nainbagh to Juddo. The opposite from the Yamuna bridge to Juddo. The Nainbagh – Juddo spreads as multiple as three rapids. It is one of the most preferred among rafters. Rapid grades vary from level 1 to level 3.
Preferable Months for River Rafting: September to June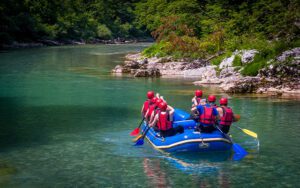 3. Teesta river, Sikkim.
Waiting to enjoy the thrill waiting in your heart? Maybe the Teestariver will be one of the best choices available there in India for river rafting. One of the most famous rivers in Sikkim is well known for rafting to the adventurers. Unruly Teesta packed with challenging rapids always entertain the experienced rafters in a thrillingly adventurous way. What makes the rafters more enjoyable is the majestic beauty of the surrounding.
Preferable Months for River Rafting: December to June
4. Barapole River, Coorg
South India also amuses you with an exceptional opportunity to satisfy your dream of rafting stuffed with the adrenaline rush. This river has two sections. One is that the regular upper section has 4-5 rapids, while the lower section of the river has about 6 to 7 rapids. The rapids become intense from grade 2 to grade 4. Some weird names will strike your ears from your instructors which are given to those rapids i.e. Grasshopper, Big Bang, Morning Coffee, The Ramba Samba, Milky Churn, The Wicked Witch.
Preferable Months for River Rafting: July to August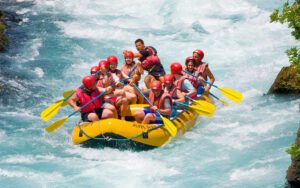 5. Kundalika River, Maharashtra
If you love to take challenges in your life and if you are a nature lover it is perhaps the best option for you. It is popularly known as one of the fastest flowing rivers in the south. Although the river offers a taste of rafting throughout the year, the monsoon is the best time to experience the real thrill of white water rafting. Lush green flora makes the surroundings more splendid, which makes it a more ideal travel spot for adventure lovers.
Preferable Months for River Rafting: June to March
6. Lohit River, Arunachal Pradesh
North-east India offers tourists to unravel the charming feeling of river rafting bounded by the wonder of the luxurious green jungles and rocky banks having the rafting intensity from moderate to grade 4. you'll feel the sparks in your nerves once you will submit to the Rapids like Pulsating Pulsi and Tooth Fairy. You'll also enjoy kayaking here. The best time for rafting here is from November until March.
Preferable Months for River Rafting: September to June
7. Kameng River, Arunachal Pradesh
Another great but lesser-known destination which has been recently opened for tourists for river rafting. Great opportunity to enjoy the thrill which gets amplified each exhilarating rapid you pass lush green rainforest and tiger reserve will make your heart warm which will last for the rest of your life. This river has some really strong turbulent spots where the rafting gets more challenging.
Preferable Months for River Rafting: April to June
Hopefully, you have read all the destinations for water rafting mentioned here. As you know there are risks in every adventure sports water rafting is not an exception to that.
Here is some safety measure you have to must watch out for:
01. You have to know how to swim properly.
02. Wearing a life jacket or personal flotation device is essential.
03. You should wear comfortable outerwear as well as inner wear during the journey.
04. Properly handling the paddle.
05. Pay attention to the commands from your guide.
06. Never panic. Panicking will suppress your enthusiasm.
River Rafting Packages