Himachal, the name itself suggests 'snowy slopes' is full of wonders for snow lovers. During winters the white bedspread of snow coats the vegetation all over so gently that it can touch even the serious mood of people to chuckle. If you are confused about deciding on your December vacation, then let me suggest you Himachal Pradesh is a true preference. You should start planning from now and start packing your winter essentials. The snow showers and the magical starry night across the places look attractive forever. Himachal Pradesh is famous for honeymooners, solo travelers, and families to experience the snowflakes touching the ground, the chilled breeze, snow-coated peaks, trees and grasslands, and awesome Himachali cuisines. It will mesmerize and will oblige the traveler to rejoice each and every moment.
Himachal Pradesh Tour Packages
Do not hesitate to give us a call. We are an expert team and we are happy to talk to you.
Speaking about forts, Jodhpur is overwhelmed with some of the broadly dignified forts in India. So, you can tour to simply explore the cultural heritage and history of this Blue City. Here's a list of must-visit forts, some of them are turned into hotels now, so you can experience a whole new level of hospitality in Jodhpur.
The Best 6 Snow Covered Areas To Make Your Time Worthwhile In Himachal Pradesh
● Shimla
● Manali
● Spiti Valley
●Narkanda
1. Shimla
Shimla "The Queen of Hills" is located on seven beautiful hills. Previously Shimla was ruled by the Nepalese. Shimla was proclaimed as the summer capital of the British in India in 1864. Kalka- Shimla Railway is considered a World Heritage Site by UNESCO. This railway route has 103 tunnels. If you're visiting Shimla, don't forget to try ice skating as it has the only natural ice skating rink in the whole of South Asia. So don't forget to experience this thrilling adventure and the authentic cuddle of snow. The snowy hills, astonishing winter activities, snow-capped trees, cotton roads, and celebrations of Christmas and New Year will make your vacation adventurous and memorable.
Attractions- Mall Road, Ridge Road, Forest Camping, Toy Train Ride, Jakhoo Temple, Christ Church, Chadwick Falls, Indian Institute of Advanced Studies, Tara Devi Temple, Shimla State Museum, etc.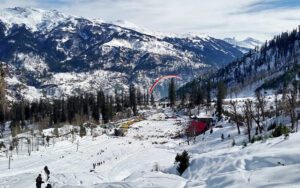 2. Manali
Manali offers peace of scenic beauty to the thrill of the expedition. From trekking to Jogini Falls to exploring Manu Temple. Manali is a blend of culture, nature, and atmosphere. You can also pass through the colonial charm of churches and old British bungalows to explore the architecture of ancient times. Manali Winter Carnival showcases the vibrant culture and estate of Kullu and Manali which is held every Winter. From Folk dances, alley games, art and craft competitions, to skiing competitions, paragliding, and ATV rides Manali offers you everything which will soothe your feelings. So, seek your blessings at Hadimba Temple and then visit Rohtang Pass Snow Point for adrenaline junkies. Skiing in Solang Valley is absolutely fun you shouldn't miss in Shimla.
Attractions- Water Rafting in River Beas, Hadimba Temple, Rohtang Pass, Jogini Falls, Solang Valley, Tibetan Market, Kali Bari, Manali Gompa, Manikaran, Great Himalayan National Park, and Bhrigu Lake.
3. Spiti Valley
Nowadays one such hill range which is trending in every Newsfeed is Spiti Valley. It comes on the list of exploring the most beautiful snowfall areas in Himachal Pradesh. Every step here reflects the joy and satisfaction of seeking adventure in your soul. An adventure lover will find promising pastimes to satisfy their adrenaline cravings. Spiti Valley is something more than beautiful in glimpsing barren white cotton layer, rugged terrains, snow-capped peaks, clear lakes, bright Spiti River, and Asia's highest Chicham Bridge. So to capture the picturesque view you must make a plan of visiting this beautiful Valley.
Attractions- Spiti River, Chicham Bridge, Monasteries of Ki and Dhankar, Chandratal Lake, Tabo village, Kibber, Kanamo Peak Trek, etc.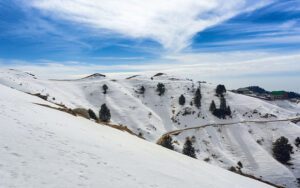 4. Narkanda
Located at around 2708 m high above sea level, Narkanda is a Valley of apples that is beautifully grown everywhere. Narkanda renders a stunning view of the great Himalayas and the green forests on its foothills. After drizzling you will experience a clean blue sky, smooth curvy roads, pine and oak trees along the road on which you will enjoy your long drive. From skiing in the snow lands and trekking to visiting temples Narkanda is the favorable winter place to be in. It is a location where you will misplace your senses and discover your core. For a photographer, Narkanda is something one cannot realize how blessed their camera lens is to have obtained the chance to capture the magnificent snow-coated lands.
Attractions- Hatu Peak, Hatu Mata Temple, Jau Bagh, Sutlej Viewpoint, Tani Jubbar Lake, Mahamaya Temple, Stokes Farm, etc.
So, isn't it enough to relax and gaze at snow flurries dropping on the surface, it's so satisfying right!! Throw away your stress and experience the pleasure of snowfall once in a lifetime especially during winters as it's no less than a white wonderland. So, start scheming your next expedition to Himachal Pradesh.
Domestic Tour Packages