Undoubtedly India is a land of culture and tradition of pilgrimage is known everywhere in the country. So, getaways to temples could be a break from the concrete city life to the bosom of nature Lonavala. The traditional rock-cut structures are the symbol of India's religious and architectural heritage. Except for antiquity, the temple complex provides a serene atmosphere and calms the mind. The gorgeous temples of Lonavala are worth visiting because it will calm your mind and soul.
Get a Question?
Do not hesitate to give us a call. We are an expert team and we are happy to talk to you.
Apart from the plenty of options to decide on, here may be a list of some popular temples to go to and seek your blessings.
● Shri Durga Parmeshwari Temple
● Shri Shantinath Jain Temple
● Ekvira Devi Temple
● Narayani Dham Temple
● Shri Saibaba Temple
● Bhairavnath Temple
Here are some suggestions you'll be able to wishlist for your next trip to Lonavala:-
1. Shri Durga Parmeshwari Temple- Devi Durga Temple in Lonavala has always been a favourite destination for all the devotees. The architecture relies on a South Indian style, which attracts lots of tourists from all over the country as well as the world. The construction is done with pure white marbles and symbolises peace. Devi Durga is a symbol of power who is empowering women. It is famous because of the looks of a flame which resembles the Goddess during Yagna. The walls are stuffed with photos depicting it's mythological beliefs. They even have a "Goshala" which implies cowshed with huge forms of cows which are quite uncommon nowadays. To enjoy nature's beauty and tranquility you must visit here once.
Location: Located on NH4 Highway in Lonavala.
2. Shri Shantinath Jain Temple- Jain Temples are quite popular in Lonavala, which indicates that Jainism is famous among Indians. The Shri Shantinath Temple is famous among the Jain, so pilgrims visit this place from all over the world, come to worship here and spend quality time which refreshes their soul and mind. It's a very old temple in Lonavala and beautifully constructed.
Location: First Temple is found at the left side (from Pune to Lonavala direction) which is just walking distance from Lonavala Railway Station near Shivaji Chowk.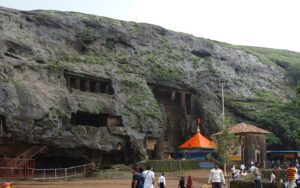 3. Ekvira Devi Temple- Located near Karla Caves, Ekvira Devi Temple is one amongst the favoured tourist attractions in Lonavala. This site provides sacred vibes and is sort of famous among pilgrims. The peaceful ambience will provide you immense refreshment. Goddess Ekvira is the mother of Chiranjivi or immortal saint Parashurama. The complex of the temple actually consisted of three alike shrines in-built in a row, all of which facing West. The Central and also the Southern shrines are conserved fully and therefore the other structures are conserved only on plan and which too brought to light within the clearance work. Maha-mandapa, Varsha-mandapa and Gopura are situated just in front of the three shrines and which are surrounded by sixteen shrines of additional parivara devatas. Because the temple is situated on the Hill, one can get a wonderful view to watch and it is a perfect photo-spot for camera seekers.
Location: Surrounded by Karla Caves, one must ascend around 250 steps to achieve the highest. It's located on Ekvira Devi Road, Karla, Lonavala.
4. Narayani Dham Temple- With great viewing of the Goddess, it is worth a visit when one involves Lonavala. Close to the highway, this temple will soon be more popular in time to come.Narayani Dham Temple is devoted to Maa Narayani. It was built in 2002, the shrine is made in white marble. The place for havan is large and well decorated. It's a four storeyed temple and houses the idols of Ganapati, Hanuman and other deities. The cowshed is extremely clean and also the animals seem to be humanely treated. It is a serene place.
Location: Located in Dhankawadi Lonavala.
5. Sri SaiBaba Temple- Another huge attraction of Lonavala is Saibaba Temple and it has been on the list of Lonavala famous temples for quite a long time now. Devotees from all round the world come to visit and worship to seek blessings. It has a blissful positive vibes all around the temple. The decoration is sort of attractive and attention-grabbing. Several worshippers spend time to feel the positivity and receive the experience of a serene atmosphere.
Location: It's located in Rao Colony, Lonavala.
6. Bhairavnath Temple- Bhairavnath Temple is devoted to an incarnation of Lord Shiva, 'Bhairav'. It's an ancient golden hued temple with spectacular Konkan architectural design within the middle of the fuzzy deep forest of Lonavala. A narrow path will take you to the main shrine of this holy place, which is surrounded by other deities of Hindu. The cool breeze with a scented atmosphere gives the complex of the temple a sacred environment. This place also offers a trekking activity to reach the top. Ensure once you visit this temple during the festival, it is an experience for lifetime and you may cherish it throughout your life.
Location: Located in Dhak, an area in Rajmachi near Lonavala. It's 7 km far away from Lonavala Railway Station.
Take a brief break from the hectic urban life and dive into the land of varied temples and pilgrimage sites and skill a peaceful journey. Lonavala is undoubtedly filled with zephyr, adventures, bushy forests and untold and unfolding history.
Budget Hotels in Lonavala