Rajasthan is a state of royal-ness, pride and glory. It is a land of history and heritage and colour and culture. Rajasthan boasts of many palaces, forts and royal havelis that have immense historical importance and have now turned into elegant and royal hotels.
Let's get the Rajasthani Bohemia on and glance at the heritage and exotic stay options in Rajasthan that will make one spellbound and awestruck.
  https://www.rajasthantourpackage.co/
Tree House Resort- Jaipur
http://www.treehouseresort.in/
Recommended Room/Suite: Book the Private Suite and chill out in the private patios and gardens with tree top bathtubs
Tariff (INR): Starting 16,000
Only of its kind in the state, The Tree House Resort is one of the four largest tree house resorts in the world. Viewing the Syari Valley, it presents some of the most photogenic views of the Aravalli through its luxury cottages known as 'nests', which are snuggled upon the trees. These nests are a perfect merge of contemporary style backed by the natural-air-conditioned stay option, mini bar, coffee maker, plasma television, wifi and marvellous hospitality. Explore the unique property and participate in the thrilling archery sessions.
http://www.treehouseresort.in
Mihir Garh House- Jodhpur
Recommended Room/Suite: Spend a day in Shandaar Suites and enjoy the private terraces and infinity spa pools
Tariff (INR): 28,000 and more
Built in 2009. Mihir Garh is a royal fort and a piece of heaven for horse lovers.
The Rajput couple, proprietors of this grand fort cum hotel, raised it at the blessed sand dunes of Mali Nathji ka Dhora, which is devoted to the fighter god of Mewar. The hotel has been planned and constructed completely as per the likes of the couple. The jaw-dropping views of the sunset at the dunes, colourful and decorative artwork, elegant furnishings, ochre-stone washrooms, mirrored open fire chimneys, private sit outs with pools make the stay exotic, outlandish, fanciful and mesmerising.

https://media.relaischateaux.com
Thar Vilas- Jaisalmer
Recommended Room/Suite: Double suites for spacious and comfortable stay
Tariff (INR): 5000 and more
The property is an awesome oasis amid the sand dunes of Jaisalmer. The rooms are themed with the help of amazing facsimilia of modern furniture, western plans, Rajasthani culture and royal grace. Thar Vilas is a truly one-word description for all the grandeur and elegance that Jaisalmer comprises of. The hotel showcases the plush green lawns neighbouring the large swimming pool, restaurants catering the Rajasthani cuisines on a plate and the typical folk performances and all these together have made Thar Vilas stand straight with pride amid all heritage hotels of Rajasthan.
http://media-cdn.tripadvisor.com
Raas Devigarh-Udaipur
Recommended Room/Suite: Pamper self with absolute royal luxury at Aravali Suite
Tariff (INR): 24,000 onwards
Living in Rajasthani way cannot be more fanciful than this. With flourishing domes, verandas tower colourful semi-precious stones embedded on the walls – the refurbished Devigarh Palace is a glistening metaphor of Udaipur royal-ness. Now a property of the prestigious Raas Group, this heritage luxury hotel comprises of 14 storied construction with royal rooms and suites, fine dining glasshouse restaurants, marble pools and breathtaking views of Aravali and Delwara village.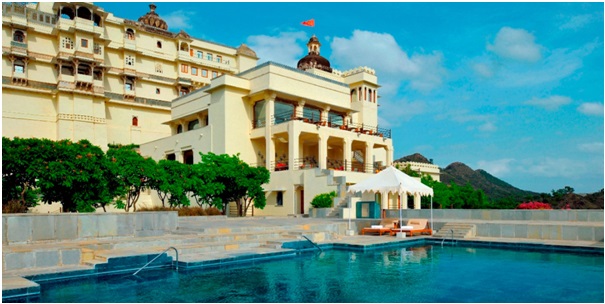 https://www.i-escape.com