The heart of North East, Meghalaya is one of the most delightful hill destinations in India. Shillong is a marvellous town here, and the local attractions of Meghalaya are located in and around the city. Flaunted as the 'Scotland of the East', a trip to this hill town is not cherished, until the stay options are sorted out.
Hence, let's check out few amazing stay options. This will make the holiday even more memorable.
Ri Kynjai
http://www.rikynjai.com
Ri Kynjai is a lovely retreat from hustles and bustles of urban life, amid nature. Located by the huge man-made lake; Vada Paani; this lake resort locally means 'serenity by the lake.'  This boutique resort offers supreme courteous services, ultimate luxury and comfort and world class delectable dining options at Sao Aiom- the four season's restaurant. People staying here can go for nature walks, bird watching and if nothing, enjoy your day with ultimate relaxation in the private sit out areas overlooking the tranquil lake. Spend a few days here to actually feel the charm of this unworldly resort.
Not to Miss: Khem Janai Spa and Khem Tynrai Massage
Website: http://www.rikynjai.com/
User Review: https://www.tripadvisor.in/Hotel_Review-g503702-d734366-Reviews-Ri_Kynjai-Shillong_Meghalaya.html
Centre Point
http://www.shillongcentrepoint.com
Strategically located in the heart of Shillong city; Centre Point is the most sought after luxury stay option here. The property has two wings- Classic or the heritage part and Club or the contemporary part. Both offers solemn comfort, service and most contemporary amenities. In both the wings, there are special, executive and deluxe categories rooms and the world-class dining experiences at La galleria for multi cuisine delicacies are just unforgettable.
Not to Miss: Cloud 9- Rooftop Nightclub and Skye Asia- resto-lounge
Website: http://www.shillongcentrepoint.com/
User Review: https://www.tripadvisor.in/Hotel_Review-g503702-d501154-Reviews-Hotel_Centre_Point-Shillong_Meghalaya.html
Royal Heritage Tripura Castle
http://cpgehospitality.com
Royal Heritage Tripura Castle is a perfect icon of a blend between the ethos of rich past and most modern comforts. Offering splendid views of Garo and Khasi hills and valleys, this royal abode (now converted into a heritage hotel) was the erstwhile summer destination of Royal Family of the Manikya Empire of Tripura.  The deluxe room, deluxe suite and the royal Maharaja suite of this hotel are well-appointed with all contemporary amenities including complimentary breakfast. Along with mouth-watering dining options at Café Shillong Heritage, the hotel offers ample parking space for guests, dedicated hospitality, the conference set up and wedding venues.
Not to Miss: Authenticate local cuisine at The Rice Court
Website: http://www.tripuracastle.com/
User Review: https://www.tripadvisor.in/Hotel_Review-g503702-d502611-Reviews-Royal_Heritage_Tripura_Castle-Shillong_Meghalaya.html
Hotel Pinewood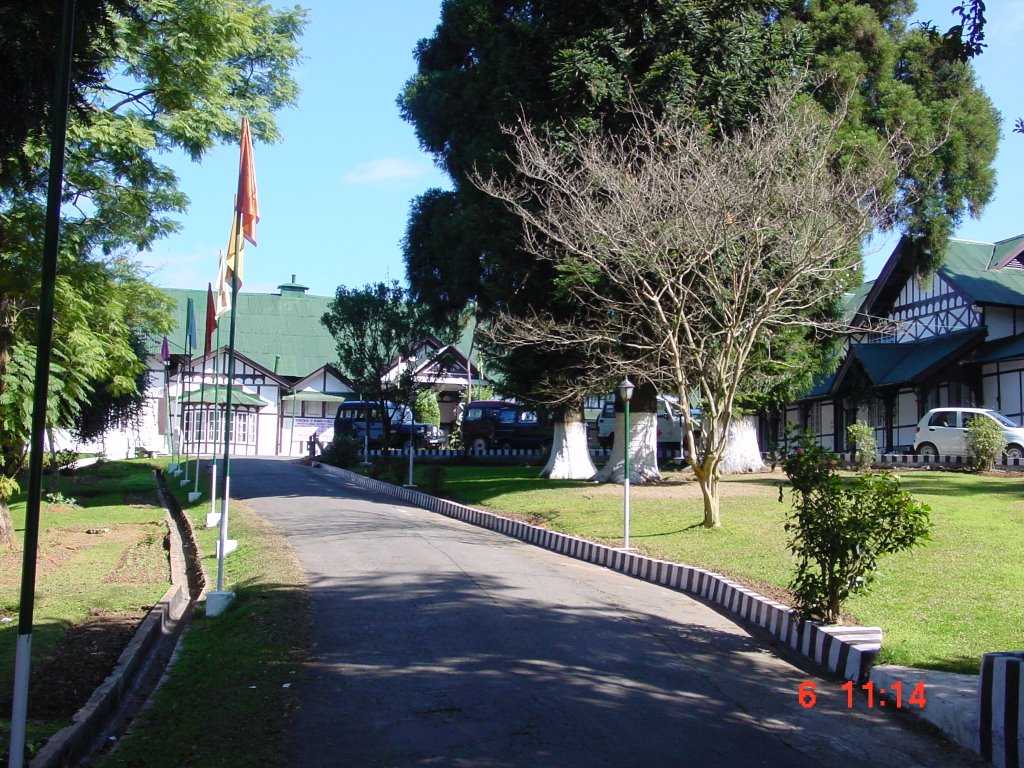 http://static.panoramio.com
Spread over 8 acres of sprawling greenery, Hotel Pinewood is one of the oldest and most traditional hotels in Shillong. This classic hotel was started by a Swiss couple in the 19th century and is built of Burma teak and pinewood. Ranging from standard rooms to a presidential suite, the accommodation here are all inclusive and most comfortable in the town. The old world charm is retained by the friendly and warm hospitality. The Pinecon serves amazing multi cuisine and the bar called Cellar is the perfect place to chill out.
Not to Miss: Heritage décor with Burma teak finish
Website: http://megtourism.gov.in/hotels/pinewood.pdf
User Review: https://www.tripadvisor.in/Hotel_Review-g503702-d501152-Reviews-Pinewood_Hotel-Shillong_Meghalaya.html
When planning travel to  Meghalaya,  it is better to sort out your stay options in advance to avoid disappointment later on.