Do Not Miss The Never Ending Charm Of Flea Markets In India!
Incredible India!
The country is given the correct name as it comprises of vibrant palette of colours having varied cultures, religions, traditions, languages, dressing, rituals and many more! Different parts of the country have varied cuisines, which are not worth missing!
Despite the fact that  malls and online shopping portals have provided so much convenience and the best products, the charm of the flea markets and the fun to bargain for the product never truly dies. Yes, flea markets are totally fun, and you can grab anything from clothes to jewelry, spices, and other stuff. Flea markets can be found all over India in different shades, different moods, and different ways. Street shopping in India is very popular, where you are certain to get beautifully crafted items at affordable price! The craze of street shopping in India is so famous that people take up a special shopping tour of the various cities of the country. Here, we shall discuss some of the well-known street bazaars, which you can visit in near future!
Colaba Causeway – Mumbai
One never needs to explain why Colaba Cause way is the most famous flea market in India. Well, this is the one-stop-shop for all your needs, you name it, and it is here. This vibrant marketplace has a great tradition and today provides all the modern products. Of course, it is the most crowded place in Mumbai, but you can have fun checking the products right from clothes, jewelry, books, handicrafts, home products, imported items and more. You will definitely need more time and energy to go through the whole place! You will shop more than you intended.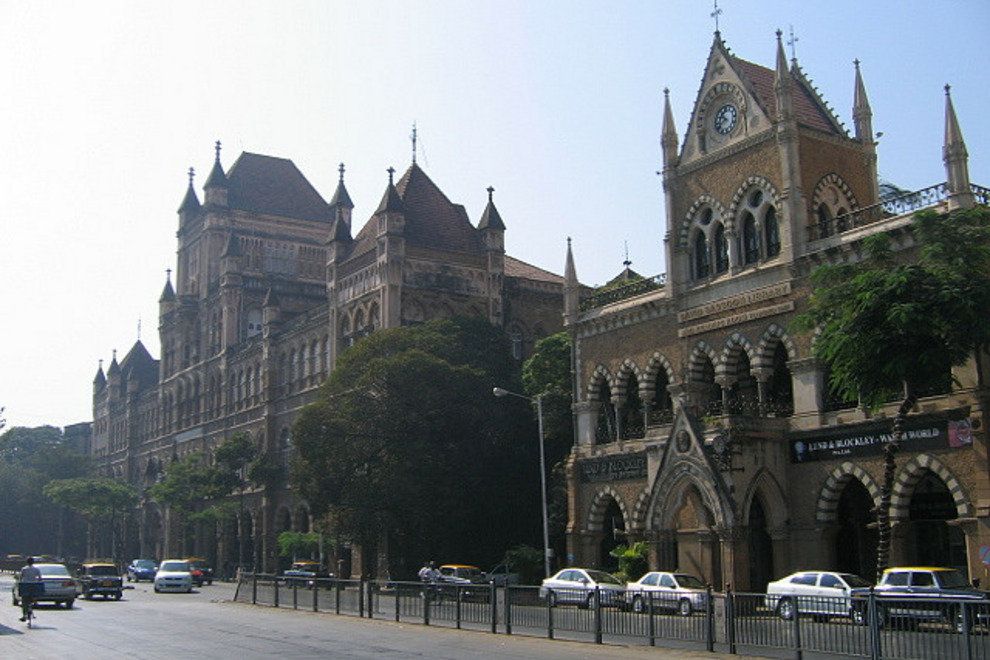 https://www.10best.com
Fashion  Street – Mumbai 
Yes, this market has got an apt name – Fashion street! There are over 150 stalls on the street that are lined up with the trendiest clothes of different styles and fashions. Mumbai youngsters are seen hanging out around this place. You get the best deals here and also a good replica of branded products like bags, shoes, jewelry, clothes, etc. The prices are cheap and you need to bargain a lot to come with a price.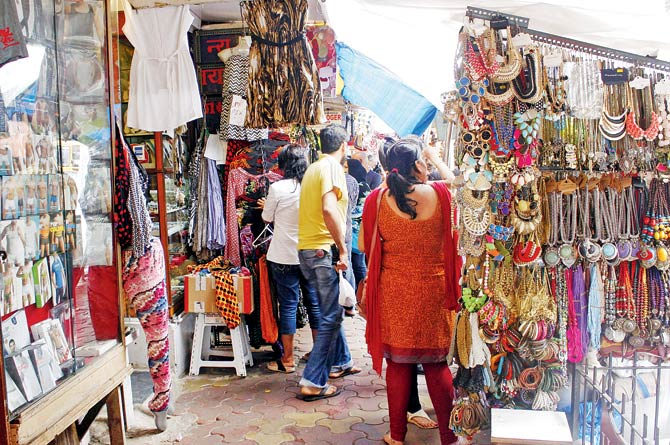 https://www.mid-day.com
Chor Bazaar – Mumbai
It is known to be the largest flea market in India. You can buy anything here that is antique. Right from old antiques from the Victorian period, the British era, and the Portuguese times and even older than these times, there are items that you will love. Bargaining is, of course, very important here. The furniture items and the other household items are too attractive to resist, and you will definitely buy more.
https://www.mid-day.com
Johari Bazaar – Jaipur
World famous for its jewelry and a home of the arts, this is the place you would want to shop when you are in Jaipur for jewelry, or the colorful scarves, the best cotton clothes that you would ask for and other shopping items that you can take home. By the time you complete your shopping, you will be the best bargain master! This fun place will also explore with you the finest work of art that you can buy at affordable prices and you will definitely empty your purse easily here without any regrets of course!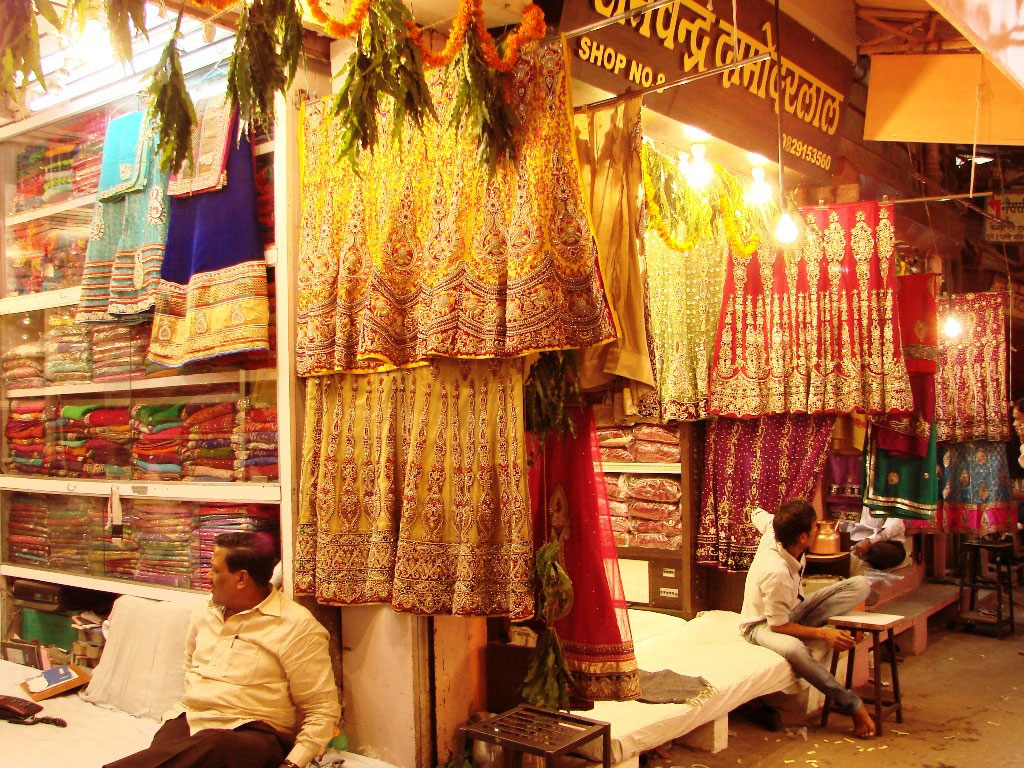 http://www.remotetraveler.com
Bapu market, North India (Jaipur):
You should not miss out visiting this popular bazaar that will lend you the perfect shopping experience with the varieties of handicrafts, bed sheets, quilts and carpets, mojris crafted from camel skin, salwar kameez sets and fabrics. You should certainly not miss out the tangy tastes of Jaipuri suparis and churans from the popular Sukur provision store. Mouth watering gol gappas and faluda kulfi are sure to sway away your tiredness! If you are fond of mehendis, you can emebellish your palm with beautiful mehendi designs from the mehendi artists sitting outside the shops in bapu bazaar!
Sarojini Nagar – Delhi
Sarojini Nagar is a place where you can find lots of youngsters. It's a busy place where you can grab a pair of hip jeans at bargain prices. It is the highest fashion quotient here and a place where you can find the latest trends in clothes and also some export – surplus garments. Use the art of haggling as the market works well only when you use it. The place offers a mind-boggling variety of styles, cuts, and colors. The jewelry is trendy right from handcuffs to neck pieces and anklets.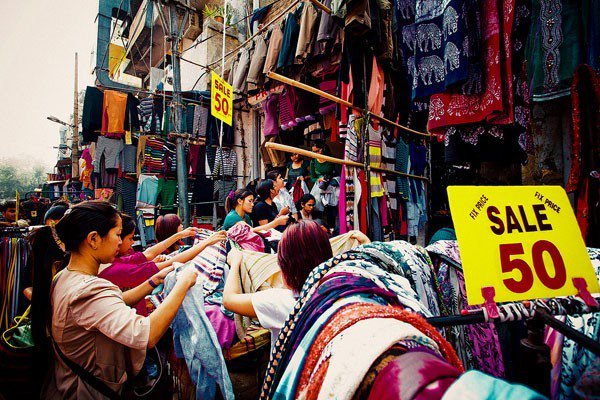 http://www.newsleakcentre.com
Janpath Market – Delhi
The best street shopping can be done here. The place is a great one to buy small kiosks, cotton clothes, curios, silver and artificial jewelry, semi-precious stones, and many more items. However, remember you need to have that ability to distinguish the genuine items of jewelry and stones. There are many fake stalls as well. Brace yourself to bargain hard as you can cut the prices more than half.
Connaught place, North India (Delhi):
This is one of the largest commercial, financial and business centres in Delhi. This market has a unique horse-shoe shape and is surrounded by major restaurants, banks, apparel shops, and so on. You will not miss out on a single product during road side shopping of socks, hair bands, mobile covers, show pieces, cushion covers and many other things. You can find all the popular brand products here! The market has all the well-known food outlets where you can satiate your hunger.
Anjuna Flea market – Goa
Goa is the paradise, when it comes to relaxation and unwinding yourself! But here too, you can shop till you drop. Just enter the Anjuna Flea market at the Anjuna beach. The place is vibrant with plenty of tourists flocking to the market to check out the items that are spread all over the place. Buy clothes, jewelry, semi-precious stones or silver jewelry. You will love the prices and the different patterns and styles that are so chic and modern. However, remember the market is held on every Wednesday.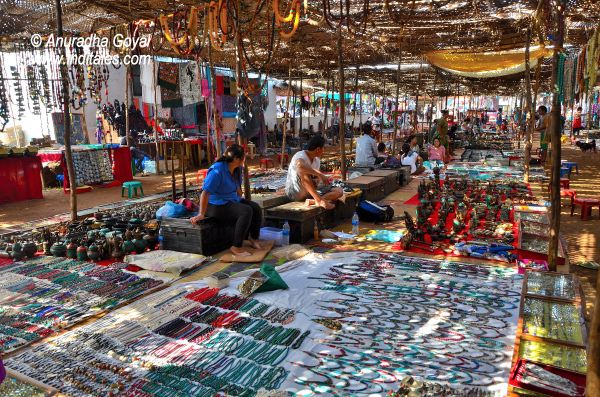 https://www.inditales.com
Arpora Saturday Night Bazaar, (Goa):
Visiting this night market would really be a fun! It is considered as one of the biggest fun-loving and entertaining places in Goa. It commences on Saturday around 4 pm and lasts till 11 pm in the night. The best time to visit this market is after 6 pm, when almost all the shops are open and you can see wide varieties of products around! Here, you can see the stalls selling kashmiri carpets, spices, jewellery, varied types of cuisines and ongoing live Indian style classical music will add a charm in the setting! You should not return without trying fresh fruit mocktails or magic tequila that will certainly make your day!
Laad Bazaar – Hyderabad
When you hear the name Laad Bazaar, the picture sparkles with lights and shining bangles and a cool marketplace for all. It was a totally bangle market, which today has shops that also sell clothes and other jewelry as well. Being close to the world famous monument of 'Charminar', the place offers entertainment as well as a shopping destination. It's a charming place where you can walk in the by lanes and visit colorful shops and check out the most famous lac bangles of different patterns and styles.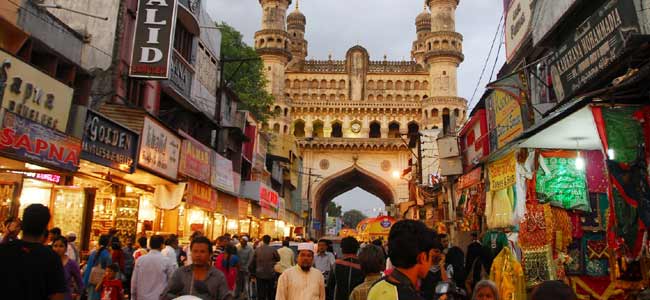 http://www.thehansindia.com
Gariahat Market – Kolkata
If you are ready with your bags, head straight to the Gariahat shopping bazaar for the variety of clothes, electronic items, jewelry, saris, furniture, household items and many more. There is nothing that you won't find here. You should indulge in some hard bargaining here to get the best price. Of course, it is a very crowded place, so you are going to struggle through the crowd and have a great time.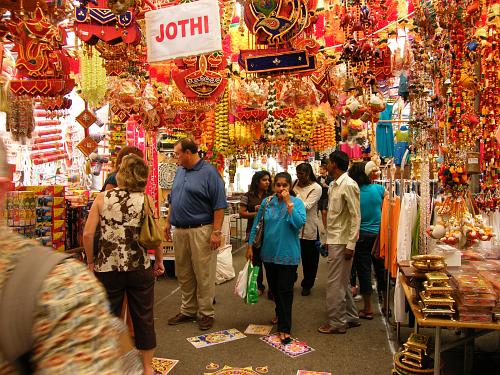 www.whatsuplife.in
The New Market, East India (Kolkata):
Located in Lindsay street, this market is one of the oldest and popular ones! You will go crazy seeing more than 2000 stalls in the market that offer a wide range of products from clothes to eateries. You can visit the market from 10 am to 8 pm from Monday to Friday, and if you are planning to go on Saturdays, you are restricted to the time limit till 2.30 pm. This market remains closed on Sunday! This chaotic market also marks on your bargaining skills.
Parrys corner – Chennai
Parry's is a shopping world where every lane is dedicated to different items. Yes, they have a clothes lane, a tools lane, electronic lane and many more. You simply have to know what you want or better still, just move around with the crowd, and you can find what you were looking for. The shopping can be great fun here as there are several interesting items that you can take home with you. Experience the heavy rush, tons of products, fresh vegetables, beautiful crockery, small bargains included and you will have a great day ahead. Whatever you are interested in, you can simply take a round here, and you will find it.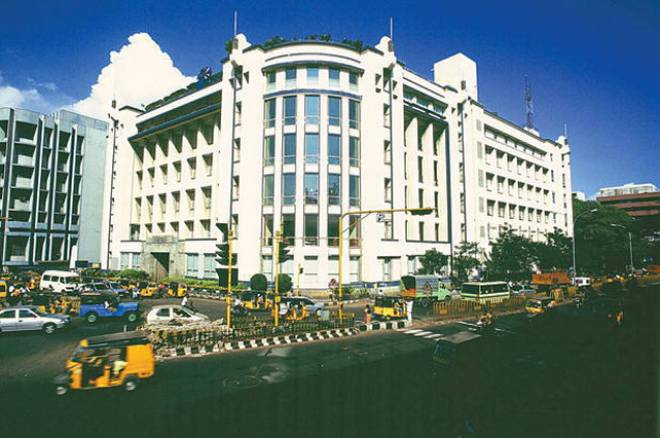 http://www.thehindu.com
Law Garden, West India (Ahemdabad):
Law garden market will certainly offer you an authentic experience of shopping! If you are planning to visit it, make sure you are going after 6 pm. This market will lend you the extensive varieties of embroidered wall hangings, beautiful and colourful chaniya cholis, special kutchi bed sheets, antique jewellery and many more different things! You should not miss out the stalls of yummy delicacies beside this market!
Bohita Bazaar, North India ( Nainital):
If you are looking out to buy some woolen clothes in Nainital, Bhita bazaar would be a great option for you! It is well-known for trendy as well as cheap woolen shawls, regular goodies and sweaters! If you have that strong bargaining skill, you are sure to get amazing products at lower price. Different knik-knacks are also available throughout this market.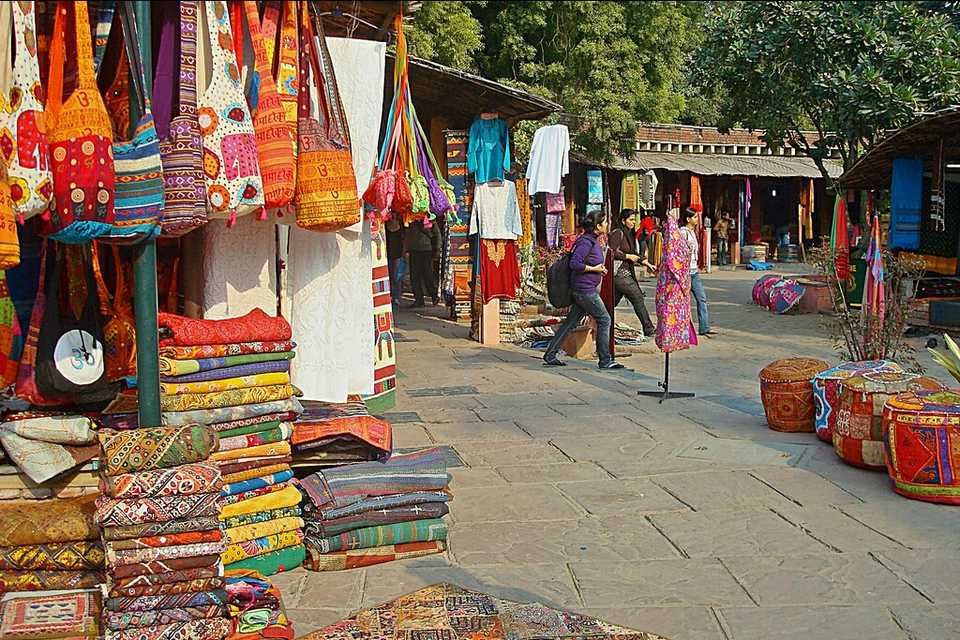 https://in.pinterest.com
Commercial street, South India ( Bangalore):
This busy going market is popular for selling jewellery, home décor items, apparels, shoes and several other things. Your pockets will be less burdened if you are great at your bargaining skills! Lip smacking food in the street will be one of the exciting things for people who are in for shopping.
Shopping in flea markets gives a different fun altogether. Haggling to get the best price of a product is such an interesting aspect of shopping there that you will fall in love with purchasing at a cheap price by your own hard work!