It's not about the destination, it is about the ride! Riders get ready to take up the riding challenge at the beautiful destinations in India! Being the home of the richest tracks and ranges it makes the most for elevating bike rides! Riding between the alluring mountain ranges, attractive seaside scenery and ample of lush greenery around would certainly be a refreshing experience for the challengers! Here we shall list down some of the destinations that should not be ever missed out by a bike enthusiast!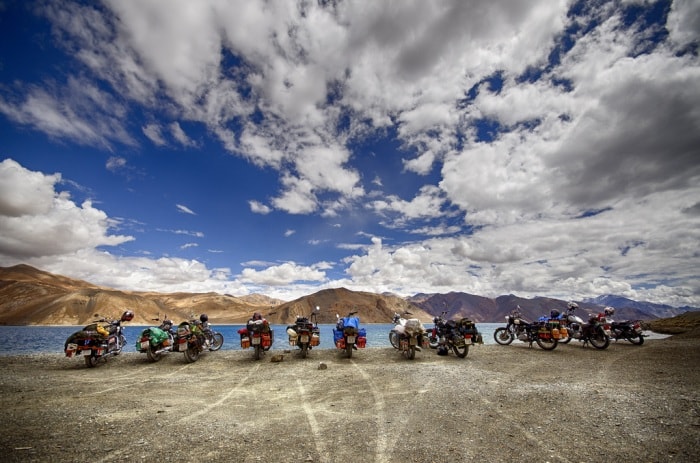 http://www.kairalinewsonline.com
Manali- Leh Ladakh: Folks, be cautious while passing this route and if you are a new rider, be extra careful! This route from manali to leh is said as the toughest way to pass by! It would atleast need 15 days to complete it. By taking up this ride you are going pass by a beautiful valley in manali that will end up to a mesmerising peak in Leh. You can even hire a guide or can join any bike tour to pass this route.
Shimla- Spiti Valley: Start the beautiful ride from breath-taking highway heading towards the more alluring valley in Himachal Pradesh, where a person can take the pleasure of sights and resonance of nature. Mind it; this bike ride would be a thrilling one!
Baangalore- Kannur: Kannur is a beautiful tourist destination located in Kerela. If a person is planning to visit the place in vacation he or she can travel by road through bike that is a trail to several lakes where a person can hault and capture moments!
Pollachi- Chalakudy: Get ready for another south Indian bike trail which passes from Tamil nadu to kerela. This incredibly beautiful route is sure to make you go crazy! One can take up this bike ride in any season, but yes one should be careful during monsoon since the area remains wet due to abundance of rainforests throughout the route. Your bike ride is sure to remain cool due to the dense forest cover!
Siliguri- Yuksom: Riding on the route of Darjeeling and Sikkim is great anyway! The best point to start the ride is from Siliguri. A person should ride through Kalimpong and should not miss out to stop at the colourful markets on the way! A person will be able to witness the grandeur of Himalayas on the way and would also get a peek at the awesome Kanchenjunga.
Bhalupkong- Tawang: Bike ride on this route should come in the list of must-have! To start this beautiful bike ride, a person should first make his or her way to arunachal Pradesh! There is ample of things to gaze on at this route which not only makes you take fun of the ride but will also take in some appealing crazy ethnic culture all the way. If a person gets the snow covered way, it would be an awesome experience!
Barmer- Bikaner: Now, here comes different route that can be a little bit of scary! The route has incessant stretches of sands that will not lose your willingness to drive. The whole ride would be unruffled due to lack of population in many regions. The best thing people would experience during this bike ride is the Great Indian Thar Dessert.
Guwahati- Khasi Hills: On this route you have to be little cautious as it gets soggy and the trail can become slippery. However a person is sure to get the perfect biking experience by starting the ride from Shillong to Khasi hills in the east. Throughout the ride a person will get through with awesome bridges and waterfalls!
Mumbai- Trivandrum: Taking a bike ride on this route can be one of the best one and it is the easiest one from the ones listed above! Beaches will be all your way on the route and you can even stop and have fun for a while at certain beach spots!
Delhi-Mandawa: this long hour bike ride will also make you meet with some historical points in between that would become a unique experience for the riders. Riding all the way from Delhi to Mandawa, you can visit Fatehpur Sikri falls that is located in between Agra and Jaipur, and you can have a glance at some forts too! This bike ride will be bringing out a tourist as well as a rider in you!
The above listed are some of the best destinations for the crazy and well-experienced riders. Those who cannot handle adventurous as well as long drives, but still need to enjoy some of bike ride, should not worry as there are certain routes for them too!  For example, one can try the route of Mumbai-Mahabaleshwar!
So, are you ready riders? India is bike affable country and you are certain to meet new people around anywhere, anytime and at any place having the similar interests like you!