Jodhpur is a glorious hotchpotch of Traditional and Modern and it's popularly known as the "Blue City" of India. As the name suggests, most of the architecture – Forts, Temples, Havelis, and even houses are constructed in vivid hues of blue color. Thousands of years ago the Brahmins painted them to be distinctive and the traditions continue. Jodhpur was set up back in the year of 1459 AD. The chronology of this rich city revolves around the Rathore lineage. Rao Jodha, who is the chief of the Rathore Clan is associated with the origin of Jodhpur in India. It was the capital of the kingdom of Magua, present-day Rajasthan.
Get a Question?
Do not hesitate to give us a call. We are an expert team and we are happy to talk to you.
Speaking about forts, Jodhpur is overwhelmed with some of the broadly dignified forts in India. So, you can tour to simply explore the cultural heritage and history of this Blue City. Here's a list of must-visit forts, some of them are turned into hotels now, so you can experience a whole new level of hospitality in Jodhpur.
3 Must-Visit Forts in Jodhpur:-
● Mehrangarh Fort
● Rohet Garh Fort
● Fort Chanwa Luni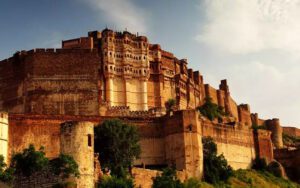 1. Mehrangarh Fort
One of the most incredible forts in Rajasthan is Mehrangarh Fort. It keeps up the dignity and myriad history. Mehrangarh was built by Rao Jodha in 1459. It is spread over an area of around 5 km, on a 125 m elevated highland in the outskirts of Jodhpur. There are seven gates to reach this fort which are created by different rulers. They are Victory Gate, Bhairon Gate, Fateh Gate, Gopal Gate, Dedh Kamagra Gate, Marti Gate, and Loha Gate. Apart from its massive nests, it preserves a delicate heart within. To see the panoramic view of the whole Jodhpur city, you must visit this fort. Inside the fort there are several palaces located in the Mehrangarh Fort, they are Moti Mahal, Phool Mahal, Sheesh Mahal, Takht Vilas, and Zenana Dude, Jhanki Mahal. Chamundi Devi Mandir and Nagnechiaji Mandir are two temples constructed within the fort which are devoted to Goddess Durga and the Kuldevi respectively. The detailed carvings on the walls, the sprawling yards, its remarkable past, striking castles, and galleries fascinate travelers from all over the earth. The palace too has one of the well-stocked galleries of Rajasthan
Address- Sodagaran Mohalla, Jodhpur, Rajasthan-342006
TIMINGS- Open every day from 9:00 AM to 5:00 PM.
Best Time- September to April
2. Rohet Garh Fort
To experience the glorious lifestyle of a royal family by not only visiting this fort but also staying here. You can book accommodations here. You will be living in the rooms and walking in the royal room where past emperors used to stay. How awesome is that! While moving toward the fort, you will assume gazing at its architectural magnificence for a long period. It was set up around 1622 AD. Arranged on the banks of a lake and established in the center of rustic nature, it is a shelter of relaxation and tranquillity. Sprawling lawns and well-decorated lawns, which tempt a horde of birds and dancing peacocks, proclaim your entrance into this oasis where the bird song is the only sound you will listen to. An impressive pool with four charming pavilions attracts you for a refreshing plunge.
Address- Rohet House, P.W.D. Road, Jodhpur, Rajasthan
Best Time- September to March
3. Fort Chanwa Luni
One of the best weekend destinations where you feel like a Royal is Fort Chanwa. It's a red sandstone fort that was built by Kaviraja Muraridan Ashiya of Bhandiyawas in 1895. Now, it's a heritage palace, its elegance, and architecture of the 18th century will give you a royal feel. This palace consists of a complex of courtyards, towers, a water wheel, lawns, and secret staircases to pavilions. The panoramic rooftops passing over the village and the edge of Thar Desert are worth watching. The artistic paintings harmoniously reflect the talents of the artists of the bygone era.
Address- Luni, Jodhpur, Rajasthan- 342802
Best Time- August to April
Be it a weekend or a long vacation, Jodhpur is definitely a treat you should not miss, it's a lifetime memory you will cherish. To feel the royal smell and to appreciate the blue hue, you must start planning your next destination in Jodhpur.
Domestic Tour Packages