The lush green meadows, lofty snow white mountains, green valleys, sparkling lakes and swirling rivers are individual strokes that have made the canvas of Kashmir beautiful and heavenly.
In this blissful destination, there are some outstanding hotels presenting a memorable stay with the family, friends and loved ones. For a dreamlike stay, take a look at few hotels in various places in Kashmir.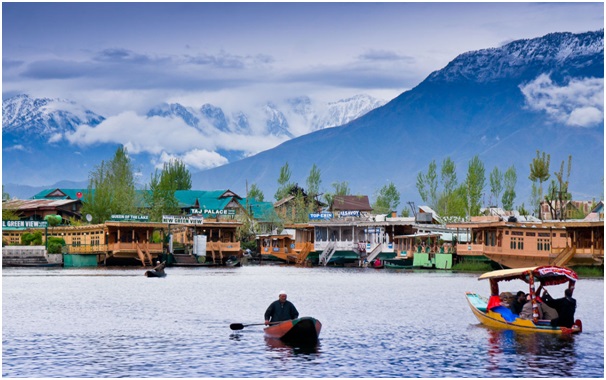 https://imghtlak.mmtcdn.com
Hotels in Srinagar
Vivanta by Taj- Dal View
https://vivanta.tajhotels.com
Vivanta by Taj is a gem located alluringly on the Kralsangri hill, which is a part of the mighty Zabarwan Mountains. The hotel presents a mesmerising view of the Dal Lake and all the merriment at the lake's bank. Vivanta is an amazing blend of Kashmiri tradition and modern design. The hotel comprises of 82 rooms and suites,  an exotic tea lounge called Rhythm and a Chinese restaurant named Jade Dragon. One should never miss Wazwan  meals at Latitude.
Tariff: INR 15,000 to 80,000 per night
Website:  https://vivanta.tajhotels.com/en-in/dal-view-srinagar/
Review:  https://www.tripadvisor.in/Hotel_Review-g297623-d2142069-Reviews-Vivanta_Dal_View_Srinigar_by_Taj-Srinagar_Kashmir_Jammu_and_Kashmir.html
 The Lalit Grand Palace
http://www.triphills.com
The Lalit Grand Palace, a superb hotel in Srinagar near Dal Lake, is the former palace of the Maharajas. It is strategically located between the snow-laden Himalayas and the stunning Dal Lake. The grand hotel boasts of 113 palace rooms; counting the lavish suites and premium cottages. Fine dining options are available at the in-house restaurants; The Chinar, The Chinar Garden, and The Dal Bar. One can also indulge in the posh Rejuve Spa with an all-weather indoor swimming pool.
Tariff: INR 13,000 to 1, 25,000 per night
Website: http://www.thelalit.com/the-lalit-grand-palace-srinagar/
Review: https://www.tripadvisor.in/Hotel_Review-g297623-d299122-Reviews-The_Lalit_Grand_Palace_Srinagar-Srinagar_Kashmir_Jammu_and_Kashmir.html
 Hotel in Pahalgam
Senator Pine and Peak
https://media-cdn.tripadvisor.com
Pine n Peak is the exclusive luxury resort in Pahalgam. Nestled atop the Rajwas Plateau, its immaculate charm remains unspoiled by the hassles and noises of the bazaar. The height of the plateau assures that the best vistas are rendered to Pine n Peak, counting the glittering Lidder River and snow-capped hills. Not to miss the sumptuous dining at Lolaab and Gulistan. Try aromatic tea and coffee at Sahil Coffee Shop.
Tariff: INR 12,000 – 27,500 per night. Tariffs of cottages with multiple bedrooms vary between INR 55,000- INR 70,000 per night.
Website: http://www.ahadhotelsandresorts.com/pinepeak/pine-n-peak-pahalgam/
Review: https://www.tripadvisor.in/Hotel_Review-g665884-d658324-Reviews-Hotel_Senator_Pine_n_Peak_Pahalgam-Pahalgam_Kashmir_Jammu_and_Kashmir.html
 Hotel in Gulmarg
Pine Palace Resort
http://www.hotelpinepalace.com
Pine Palace Resort is one of the finest hotels in Gulmarg. This boutique hotel is by and large new and offers utmost comfort, luxury and pleasing hospitality to all its guests.  The 3-star property has 32 rooms and suites and offers mouth-watering local and global cuisine. Pine Palace is the exclusive hotel from where one can ski or board from the door to Gulmarg's gondola.
Tariff: INR 8400- 13,000 per night
Website: http://www.pinepalaceresort.com/
Review: https://www.tripadvisor.in/Hotel_Review-g317095-d1013347-Reviews-The_Pine_Palace_Resort-Gulmarg_Kashmir_Jammu_and_Kashmir.html
Hotels in Sonmarg
Tranquil Retreat 
http://hoteltranquilretreat.com
Snuggled at an elevation of approximately 8,956 ft, Tranquil Retreat is the most preferred hotel in Sonmarg. It significantly offers total tranquillity and comfort amidst the jaw-dropping backdrop of plush green valleys, tall trees, and snow-capped mountains. An unperturbed and comfortable 4-star resort, Tranquil Retreat is a combination of rich Kashmiri heritage and contemporary culture.
Tariff: INR 8,500 to 12,000 per night
Website: http://hoteltranquilretreat.com/
Review: https://www.tripadvisor.in/Hotel_Review-g2282345-d5504646-Reviews-Hotel_Tranquil_Retreat-Sonamarg_Kashmir_Jammu_and_Kashmir.html