Spiti is undoubtedly the most amazing place to explore in Himachal Pradesh. It presents several remarkable sight-seeing choices with charming mountain sights and swiftly flowing streams. One can visit some of the gorgeous monasteries such as a Key monastery, Tabo monastery, Dhankar monastery and Lhalung monastery. Spiti even has some natural splendours such as Chandra Tal Lake that one shouldn't skip during the trip.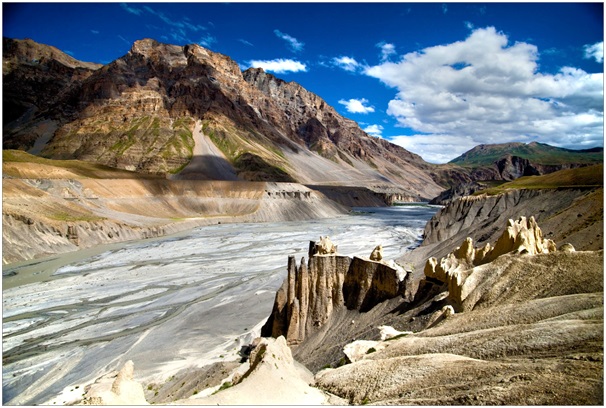 http://bortovoi.35photo.ru
This highly elevated district of India is famous for jaw-dropping views, most photogenic sites and famous hikes and trails.  The place is also enriched with cultural ethos of Tibetan clan, endangered flora and fauna and numerous unnamed hilly streams and daring picturesque mountain passes.
Udaipur of Himachal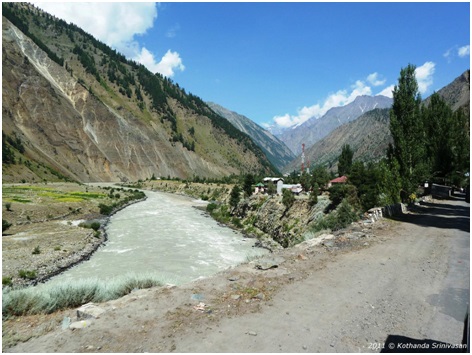 http://farm7.staticflickr.com
Udaipur in Spiti region is a small hamlet located on the banks of River Chandrabhaga. Snuggled at an elevation of 2,743 meters, Udaipur is placed 53 km north of Keylong.  Earlier it was popular as Markul as it had a temple devoted to Markula Devi, an embodiment of Goddess Durga. It was retitled as Udaipur in 1695 AD, as a mark of the tribute of King Udai Singh of Chamba. Udaipur along with Trilokinath temple are the two noteworthy religious centres in Spiti area and frequented mostly by Hindu and Buddhist followers. Both the places of worship are situated on each bank of the Chandrabhaga River. The temple is made of wood and stone, and the styles and design reflect a perfect intermingling of Tibetan and Hindu ethos. Udaipur temples are famed for their décor, especially woodwork whereas the walls and pillars portray tales from Hindu mythology and epics of Ramayana and Mahabharata.
Ki-Gompa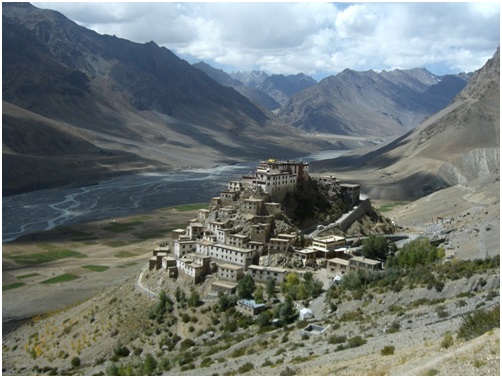 https://upload.wikimedia.org
The Key Gompa or Ki Gompa monastery was built in the 11th century. The Ki-Gompa is the major and probably the largest Buddhist Monasteries found in Lahaul and Spiti area. The location of this prestigious Monastery, above a hill at about 4,166 m above sea level is charming and enthralling and fascinates each and every traveller. The marvellous vistas from the top most position of the monastery are startling and stunning and never miss the camera during the visit.
Kunzum Pass
https://kishorethukral.files.wordpress.com
Kunzum Pass is a high altitude pass of Spiti and amazing and mind boggling in terms of scenery and location. Snuggled at an approximate height of 4590 m, the pass links the Lahaul valley and Spiti valley with the Kullu valley. The pass is a popular trekking stretch leading up to the serene and stunning Moon Lake.
Tabo Monastery     
http://static.panoramio.com
The Tab monastery was raised in 996 AD and is one of the antique active Buddhist monasteries of the country. The monastery is counted and treated as a World Heritage Site as declared by UNESCO and preserved and maintained by Archaeological Survey of India. The monastery is popularly titled as the "Ajanta of the Himalaya" owing to the stunning and awe-inspiring rock paintings and stone carvings.
Dhankar Gompa
http://previews.123rf.com
The Dhankar Gompa is situated at an approximate altitude of 3,894 m above sea level and is positioned at a superb location over a 300-meter lofty knoll.  Though the approach road is bumpy and immensely challenging- the views around the Monastery will charm every traveler who manages to reach there.