My experience in blogging and content writing; articles, so far has been limited only to technical topics associated with my industry (Naval Architecture and shipbuilding) and College; Institute of Shipbuilding Technology (ISBT). This is for the first time I am trying something on current topic affecting our society, India, and world as whole.
While, I choose to be apolitical during my public and social media interactions & posts and hope to continue to do so without taking favours towards any party, I wish to share my experience of being a part of the world's largest evacuation process, its efficiency and feedback on #VandeBharat initiated by Government of India (GOI), the largest democracy in the world!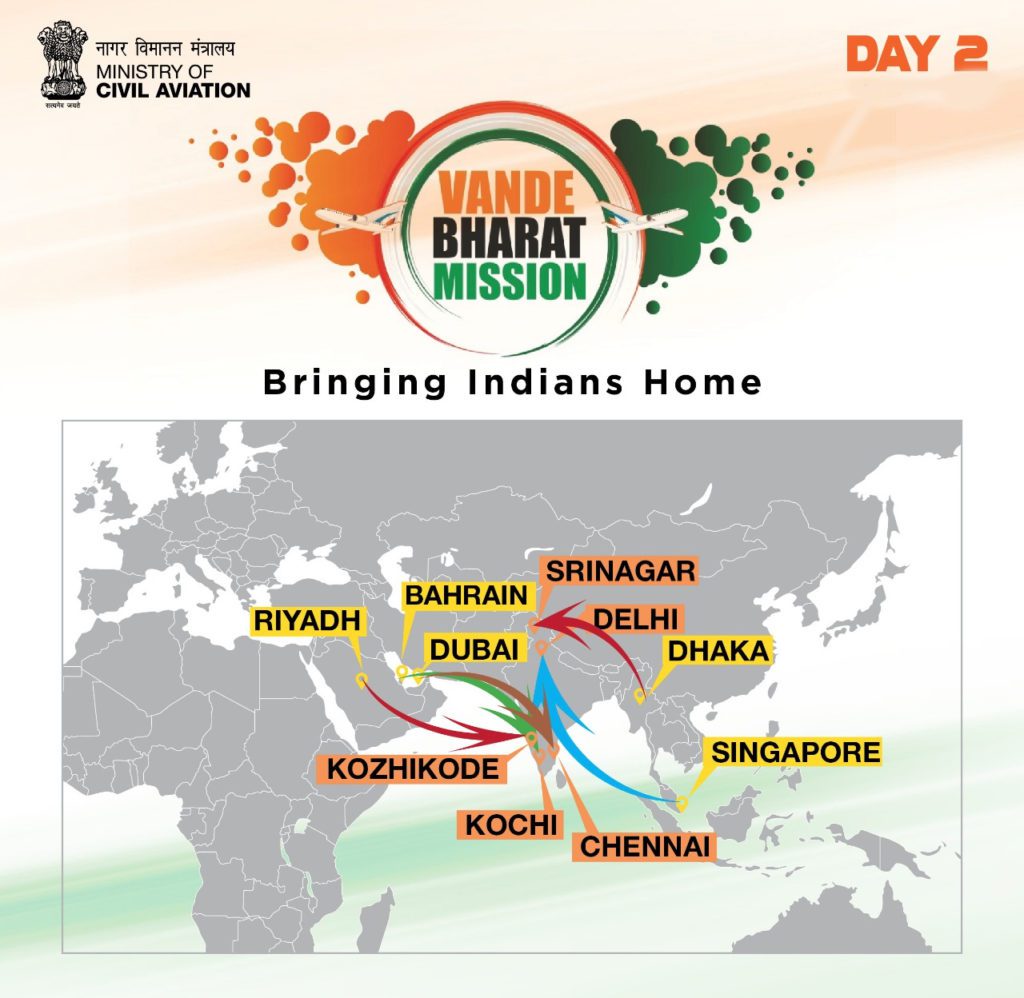 The Beinning
It all started with the address to Nation at 8 PM, by our Honourable Prime Minister Shri Narendra Modi. After a warmup restriction of 1 day, India entered into a lockdown of 21 days and then further extension of lockdown 3.O. We had isolated ourselves from rest of the world and within our country to fight and restrain Covid 19 and prepare ourselves for worst time ahead. The intensions were clear, the Nation wanted preparation boost, means and resources to fight & control the pandemic.


I was travelling abroad on a short term visa and was thus stuck in Singapore. My visa expired and the Immigration and Checkpoints Authority (ICA), Singapore were very active and helpful in extending it two times in a row. The representatives of the department were very proactive in communications. They assisted and guided me to ensure that I do not violate (unknowingly) any norms during my stay. Guess "Atithi Devo Bhava" is not only the virtue and practice of India.
While I had been waiting for the relaxation of lockdown, news spread that international flights may not be operational soon until July (through unofficial sources and media house). The Government of India in the meantime announced its Evacuation process through Air and Water under the brand name VANDEBHARAT from 7th of May.
Well ahead of this announcement, the Indian Embassy had patiently but strategically collected the data and whereabouts of the stranded Indians. The High Commission of India (HCI), Singapore had asked us to register and fill in a form along with couple of Annexure. The information regarding our local address, contact number, email address, entry date, validity of Visa and embarkation/ dis embarkation ports were collected. This was used to prepare a list of people to be evacuated from foreign land. They have set the criteria very clear with preference given to people with some medical conditions, senior citizens, un-employed Indians, pregnant women, Indians travelling with short term visa and students.
Singapore had also declared lockdown and my movement in the country was restricted. I was confined to Hotel for about 2 months, moving out only for acquiring essentials. I was happy to be contacted by my Lecturer, Mr. Satish Paliencar (HOD Shipbuilding, ISBT) enquiring about my wellbeing. School friends and relatives interacted with me on regular basis. Contact with family on a daily basis kept me busy and going during this lockdown tenure. A surprise Video "Virtual get-togetherduring COVID-19" by Kaushal Karia, (Carmel Convent School alumni) brought a smile to the otherwise not so upbeat situation.
The Process
The evacuations were supposed to happen in phased manner divided week wise so that majority of geographical regions could be covered, and help reached out to maximum stranded Indians possible. The first week of evacuation started from 7th May-13th May with 10th May Flightfrom Singapore Changi International airport to Chhatrapati Shivaji International Airport, Mumbai. The HCI, Singapore reached out to individuals through emails and mobile phones. A list was put up at Air India office, Coleman Street. Tickets were made available to purchase from Air India office for candidates who have either received emails or calls.
Constant updates were provided in the social media pages and official handles of Indian authorities/ Departments were of great help. There were few whatsapp group formed by stranded Indians which shared latest update and served as discussion forum. Joining one such group helped me a lot. I could connect to few college alumni and fellow professionals. Ameya Hazare, one of the shipbuilding engineers, also in that group, provided lot of assistance since he was in constant touch with various stakeholders.Finally, I was summoned by the HCI and my way to the Air India flight AI 304 was made clear. I am thankful to the assistance provided by the team of HE Mr. Javed Ashraf (High Commissioner of India to Singapore). Mr. Nitin, from the team, had been courteous to address many of our queries.
The Airport
So, with less than 12 hours of time left after the confirmation of my name and reporting to airport, it took me around 2 hours to get my stuff packed and have all essential and basic PPE safety things, ready to travel. A 14-minute drive by cab at 4:30 am ensured that I reached airport within the required time of arrival, which was 5 am. There was only one counter open "Air India".The airport and aircraft staff were very co-operative and efficient. Web check-in by many including myself made the line move faster towards the departure gate.
At immigration there was a zero contact/ interaction policy. Self-scanning of passport and fingerprint scan had to be done by individual so that people could proceed further towards gate D32. But for me its never a smooth sailing in first attempt!!! Unfortunately, the machine did not accept my prints.After 5 unsuccessful attempts I was halted. Persons next to me continued and I was out of the line wondering if I have to return back to my Hotel and stay further in this beautiful country. Meanwhile an officer from immigration assisted me to their office and conducted manual procedure to clear my immigration process. It appeared that prolonged use of safety gloves over the frequent sanitized palm & fingers was the cause of the hurdle. I washed my hand and attempted again to successfully register biometrics.
Duty free shops at airport were non-operational which was a sign of dejection for many. However, there were couple of Currency exchange centres open. Few co-travellers exchanged some SGD to INR to use in India. I had already kept some cash in INR available with me therefore I chose to skip this queue.
We had around 3 hours of spare time at the Gate waiting for our flight to be ready. Interactions with many people who were active on whatsapp group (which I already mentioned above) was fun. Needless to mention, this was done keeping in mind proper social distancing & and adherence to norms/ instructions. Meeting people in person and interacting with them online are altogether different ball games. I was quick enough to hand over few disposable hand gloves to some of the fellow travellers, since I had committed certain members in the whatsapp group to do so. The hand gloves were not readily available in certain area, as per them.

Word of advice "Indians travelling in second phase of evacuation, please don't forget to purchase them well in advance."

The Flight (#UDAN, Ministry of Civil Aviation – GOI)
The boarding announcement for the passengersin groups of 30 members each was done shortly. Sequence to board was predefined with passengers to be seated from the aft end and then filling through the forward end of the vessel. Arrangements for water and snacks/ quick bite were made beforehand & placed at the seat prior to boarding. The quantity was more than enough for one person to survive two meals for a flight duration of 5 hours!
In fact entire flight arrangement was well thought, planned and executed in such a manner that there was no/ minimal interaction with the cabin crew. The crew assistance lights were deactivated,and all passengers were asked to use w/c by first ensuring that there is no onewaiting outside, to follow social distancing during the voyage. The crew were adequately equipped with entire PPE kit. Since the aircraft was flying in full capacity, we couldn't avoid distancing with co passengers, but Air India had provided basic PPE. Every passenger had undergone hand sanitization and was asked to put on face shield, mask and glove to protect oneself. There was no entertainment system or movies available during the journey. Perhaps we were following the famous saying "No Pain, No Gain". Many passengers grabbed quick nap due to early hour travel and hectic schedule. We landed in time at Mumbai Airport.
The Disembarkation and Immigration
Deboarding flight was relatively slower, as group of 20 passengers only were allowed in one time, with many check points, thermal screening and formalities to be completed by every group. The next batch was allowed only once the first group would clear the milestone. Piece of advice for Indians travelling in the second phase "please download the Aarogyasetu app before hand using Indian number. This will save lot of time."

In case people travelling with international sim cards, the airport facilitates WiFi. Only using this network, one can download the app and register some Indian number for OTP, but install app in respective mobile. Aarogyasetu is mandatory for every person and we are not allowed to delete the app until the entire quarantine period is over. Passengers were asked to fill 2 declaration forms twice (yes twice). Jumbo photocopy machines were kept in the airport before immigration counter to further photocopy them twice again. We were asked to hand over these copies at various other counters to the representatives of airport, immigration, and BMC/ local authorities. The entire journey from aircraft to verification of app installation to submission of forms took around 3 hours. There were thermal scanners at few places in the route. The temperature was noted down for one final time just before immigration.
Immigration officer were extra cautious by instructing us to stand around 1-1.5 meter away from the glass cubical. While allowing our entry officially, they would quickly leave the place each time when the gate opens for the passenger, to make sure the distance is even further apart.
We then collected our baggage, cleared customs, and headed towards our district/ zone queue. It was made sure that there was man to man marking in the entire journey so that none of the passenger was left out or misguided to another place. Since I belonged to Mumbai suburb, I was directed to the queue along with the print out of hotel options for my zone.
Queue were for following division;
Mumbai suburb
Mumbai city
Thane, Panvel& Navi Mumbai
Other districts in Maharashtra outside Mumbai
Other state
The Quarantine
The moment you enter one of the abovequeues, representatives from different hotels shall approach you to select their hotel. I was already ready with the hotel choice. All thanks to my wife carrying out risk-mitigation analysis at her end and making full use of her quarantine free time. I choose to stay in NIRANTA Airport Transit Hotel & Lounge. It is within the premises of International airport itself (Terminal 2, First floor). Hence, I was lucky enough to not get exposed to any kind of travel transits and journey outside. The authorities from BMC were very helpful and informative. They noted our hotel address, mobile number and local address. They also made sure that we go along with the authorized person and to the same hotel which we had chosen. In short, they mapped and tracked us down with name & seat number. The security and representatives from different departments were present to answer queries of passengers in doubt.
I could immediately settle in the hotel and avoided all further local travel. The exile period, although 20 minutes away from my residence, now started!!!
The Niranta Hotel
I could check in with in 5 minutes of completing the above formalities with authorities at airport. Hotel staff confirmed back to BMC about my presence in their hotel and my name was thus checked in BMC list. The hotel staff after proper sensitization and temperature registry, requested for advance of 5 days only, because we were unclear about the duration of stay. There were three possibilities;
Serve full 14 days quarantine period
Serve initial 2-3 days quarantine and leave for home quarantine for remaining period once the swab test is negative.
Serve 7 days quarantine and leave for home quarantine after negative swab test.
In a couple of days, we were clear that only possibility 1 was valid and we had no other option but serve entire quarantine period. The BMC medical representative was present throughout the duration. General check-ups were conducted on regular basis. I was in quarantine within 2 km of my residence.
Hotel staff was very particular about the instructions given by BMC. They strictly followed it themselves and advised us to follow the same. We were completely isolated from outside; in fact I don't remember entering the lobby after I checked in my room. 3 Meals were served to our rooms with zero contact policy. House keeping was unavailable throughout the quarantine. We were provided with fresh linen, toiletries etc. for our daily requirements. Disposable bags were provided to get away with the used items which was disposed off by staff as per BMC guidelines. There was zero socialization. Entire hotel staff were suited with proper gear and protection. Their main aim was to ensure safety and curb the spread of disease, if any.

I was pretty impressed with the efforts made by the hotel management. Mr. Sunil Grover, the general manager of Niranta, seemed to be a gentleman and took care of comfort to the best possible extent given under the scenario. The entire staff was very humble and co-operative. We could order food from the selective limited menu devised during this stay due to shortage of availability of items in market & restricted movement.Vivek who would get the food and beverages to my room was well trained and professional staff member. Hygiene and cleanliness of the hotel was pretty good and they always welcomed feedback.

There were other hotels listed for the quarantine and adherence to guidelines were different in various hotels as per the feedback from the same whatsapp group. Yes, I have not yet quit the group. We still had some exchanges of experience and advices going through the platform.
A piece of advice to the second phase travellers " Guys you may consider carrying 1-2 small packs of phenolphthalein balls in luggage to use later during your quarantine period"
The Conclusion
Today 17th May, I have now served half way of the quarantine period, am now waiting for Lockdown 4.O to be announced by the Government. Hoping that this shall be the last leg of lockdown and restrictions. And when we finish the "Exile" there shall be a whole lot of new opportunities welcoming our personal and professional front. On a lighter note, I now have gathered enough experience and material equivalent to one week of 'bed time stories' for my 5 year old kid.
Thankful to the BMC authorities, Government of India, medical staff, security and airlines for their selfless act during this pandemic. These were the people running from pillar to post to ensure that the phase one evacuation settles down in place. I have no doubt in my mind that the second phase of evacuation shall be even better organized with smoother co-ordination between different districts outside Mumbai.

Photo courtesy: Ameye Hazare
About The Author
CHIRAG JOSHI: – An engineer by profession serving the marine and shipbuilding sector since 15+ years. Ourprofession requires frequent and extensive travel and commuting.
The intension of the Blog is to facilitate basic information to fellow travellers, mariners, Naval architects, and other public in general and make full use of subsequent phases of VANDEBHARAT.