"I can speak to my soul only when the two of us are off exploring deserts or cities or mountains or roads." – Paulo Coelho
Travelling allows you the chance to take a much-required break from your daily life. It's something that makes you feel fresh by bringing the real you closer to yourself. For many people, the idea of travel is linked with vacations wherein they imagine lazy days on sandy beaches or beside a pool with their favorite drinks. However, the idea of travel can be entirely different for many. People are becoming more conscious about health and fitness now and hence, they would like to lap up every chance that takes them a few inches closer to fitness. Planning a vacation centered on fitness and wellness has emerged as a more preferable option for many. Preference for this type of vacation has paved the way for emergence and growth of Wellness Tourism and its advantages.

This industry combines two internationally successful markets, the wellness industry ($4.2 trillion) and the tourism industry ($2.6 trillion). Going by the statistics, Wellness Tourism registered a growth of 6.5%, from $563 billion to $639 billion in the span of two years between 2015 and 2017. A new sub sect of travelers known as wellness tourists has come into being with the gradual evolution of this industry. Such tourists search for the best wellness experts and such services providers across the globe. 
Let's try to have a look at the industry as a whole and understand it. In this article let's discuss about Wellness Tourism and fitness brands in the industry.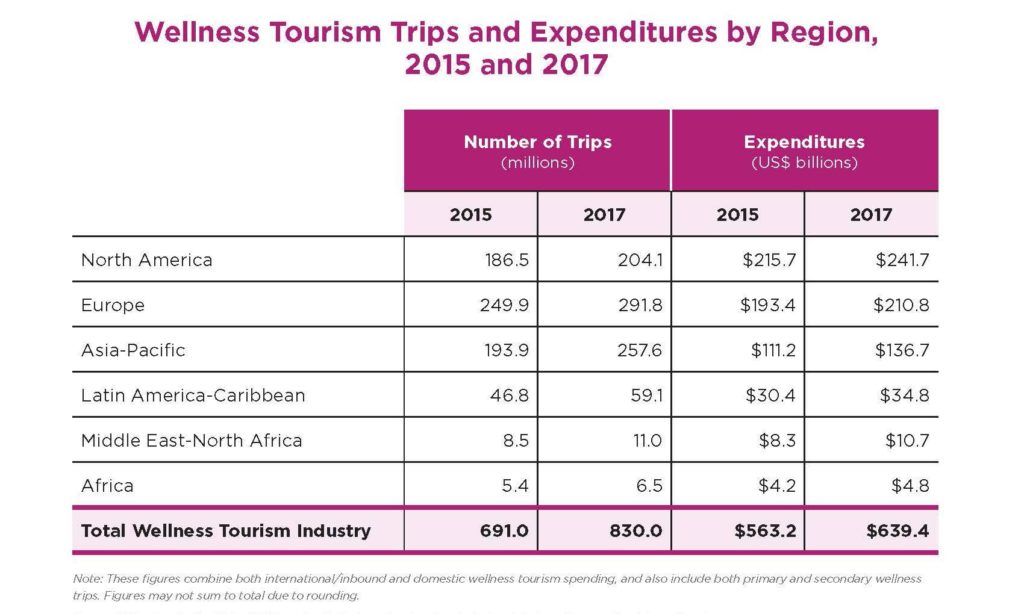 Knowing Wellness Tourism
Wellness Tourism is related to the maintenance or enhancement of one's personal well-being. The world is witnessing a huge number of wellness travelers who are traveling across the globe for this purpose. The year 2017 recorded 830 Million such trips whereas in the year 2015, the number of wellness trips was 139 Million. The steep rise in the number of wellness travelers within just two years gives quite an encouraging picture of a great trend that is here to stay. As per research, the future of this industry looks quite promising with an expected annual growth rate of 7.5% until 2022.
There are two major driving factors for wellness tourism and its advantages. 
Increased accessibility to locations around the world

Increased focus on fitness and wellness
If we talk about the first factor, we can see the increased accessibility to various locations across the world. People have access to various apps that help them to plan their trip and save some quick bucks too. With the help of these apps, you can even book your tickets quickly that too at discounted rates.
The second factor is the increased focus on fitness and wellness in general. People have become more conscious about their health, body and well-being than they were previously. As per an estimate, the total fitness industry revenue was at $87.2 Billion which increased to $94 Billion in the year 2018. 
Benefits of Wellness Tourism 
Below mentioned are three major advantages of getting into wellness tourism:
Retention
If your members get the chance to go on a trip that is fitness and wellness-focused, it will enhance the worth of your membership to them. Automatically you will see a great boost in retention rates. Obviously it should not create the base of your strategy but it can help to make your overall services more appealing for your members.  
Acquisition
In case you are planning to organize a vacation, it would be a great idea to open it to the public. Your wellness center or gym becomes famous among more people in the local area. It will be an exceptional way of introducing your business to new prospects. Anyone would love the idea of a fun-filled fitness trip with the signup. 
Branding
Branding is the key to every business. Diversification of your business offerings by including Wellness Tourism, your brand is infused with a new vigor and it gets a unique selling point. Your brand will be able to stand out in the crowd and have an edge over competitors. 
Summary
Wellness Tourism is an industry that is experiencing a quick growth currently. Moreover, with presence of various brands, studios and influencers making their way into this space, it's quite clear that some of the most lucrative opportunities are waiting there. If you are planning to enter this space, ensure that you have a clear objective in your mind. Take baby steps, try experimenting with local associations and partnerships to gauge where this strategy can take you. 
'Wellness Tourism' is the future of travel!