If luxury is your concept of travel along will absolute fun and frolic; Andaman will not disappoint you. Holidaying in the sun-bathed beaches, turquoise nearly transparent water, plush palm plantations, sparkling sand and with thrilling water sports amplifies when there are ample options for hotels and resorts that suit every wallet size.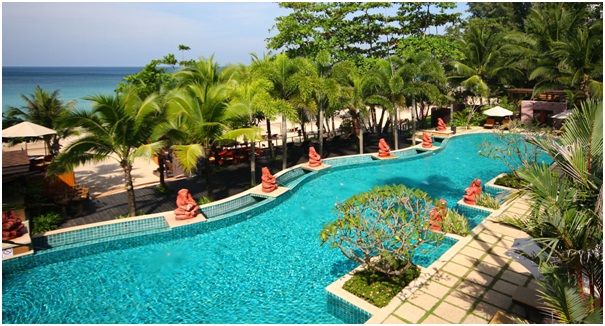 http://www.andamanwhitebeach.com
 Scroll down for the list and details of premium, mid-range and budget stay options of Andaman.
Luxury Hotels
Barefoot- Havelock
http://barefootholiday.com
Delectable cuisines, most amazing vistas, encircled by lush green plantations, Barefoot Resort in Havelock Island is surely one of the most tranquil and luxurious among the hotels of Andaman. Choose from the multiple stylishly decorated and outlandish villas and feel the awesome surrounding. This resort is picture perfect for honeymooners for a starry-eyed holiday.
What's Special? Pamper yourself in one of the beautiful options including the premium spa and Ayurvedic treatments Barefoot Ayurvedic Wellness Center, enjoy the diving sessions to explore the jaw-dropping coral reef, line and rod fishing trips.
Fortune Resort Bay Island
https://getsetclick.files.wordpress.com
Snuggled on the corner of the of unspoilt, lush green forested island, Fortune Resort Bay Island is one of the finest and posh resorts with the most photogenic view of the crystal blue Bay of Bengal and the sparkling horizon. Endowed with the glittering location, this appealing and eye-catching resort is constructed with the local variety of wood, Padouk; a top class red lumber that is seen solely in the islands of Andaman and Nicobar.
What's Special?  Try out the sumptuous local cuisine including mouth-watering seafood while relishing the stunning vista at Mandaly- open deck dining and the charm of the resort.
Mid Budget Hotels
Sinclairs Bayview-Port Blair
https://media-cdn.tripadvisor.com/
This gorgeous sea-facing resort is certainly one of the most comfortable and well-appointed 5-star hotels in Port Blair presenting the most outstanding views of the surrounding. Located at The South point, Sinclairs Bayview is a paradise for nature enthusiasts.
What's Special?  Along with the open air roof top restaurant where one can enjoy delectable cuisines and soothing sea breeze, explore the Bunker and Cannon- as old as the days of World War II, located inside the hotel premise.
Wild Orchid Resort-Havelock
http://www.wildorchidandaman.com
As one of the favourite pick by the travellers; Wild Orchid of Havelock Island is one of the best mid-budget stay options. The picturesque and charming resort, Wild Orchid is located amid the turquoise blue Bay of Bengal and the plush green wooded hills of Havelock.
What's Special?  The hotel arranges for expert scuba coaches for thrilling underwater experiences. Please book in advance. Wild Orchid has some awesome dining options like Red Snapper, Emerald Gecko Bar and Fat Martin's South Indian Corner.
 Budget Hotel
Hotel Shreesh- Port Blair
https://lh5.googleusercontent.com
Hotel Shreesh offers all the basic facilities for a decent stay and is absolutely value for money. It is perfect for friends, backpackers with limited budget and individuals travelling for business purposes.
What's Special?  The hotel is centrally located in Port Blair and easily accessible from local markets and airport.
Tango Beach Resort-Neil Island

http://www.funntrip.com
Located on Beach no. 1 of Neil Island, Tango Beach Resort is ideal for those travellers who are looking for all facilities with a limited pocket size.
What's Special? The hotel offers awesome experiences in swimming, snorkelling, fishing, scuba diving and jungle hiking under the strict supervision of experts.