Why can't the forthcoming vacations be a little offbeat and off the wall? Let's stop visiting the most frequented popular tourist hotspots and check out something exotic and unusual. Look at the map of India and how about the small island clusters in the Arabian Sea? Yes- Lakshadweep is what we are talking about.
Lakshadweep is a pristine and serene island, and most of the islands in the cluster are still. It is an upcoming tourist destination where travel amenities like hotels, resorts, good food and transport are on the verge of development. Before zeroing down to Lakshadweep' let's explore some of the hotel options.
http://ambikaholidays.in
Lakshadweep has very few good and luxurious stay options, and many of the tourists' especially International travellers prefer homestays.
Agatti Island Beach Resort- Agatti
https://media-cdn.tripadvisor.com
Agatti Island Beach Resort showcases a jaw-dropping scene of shimmering coral reefs, crystal blue water, sun-kissed shores and plus coconut and palm plantations. Here time is quiet in the fascinating prettiness of unspoilt nature. The resort is located in the world's most splendid tropical islands unscathed by the human intervention. Winner of "Excellent" award by Trip Advisor; the resort boasts of its private beach which offers a mesmerising lagoon view. The resort offers all kinds of water sports like swimming, diving, jet skiing and underwater diving.
Kasim's Homestay-Agatti Island
http://www.holidayrentals.co.in
The homestay is quite popular and well-appointed and hence most frequented by foreign travellers. Not so luxurious; but this homestay offers all basic facilities needed for a decent holiday. The location of the homestay is excellent and as it is at the beachfront; it offers options for water sports like snorkelling, angling, scuba diving, island trips, deep sea diving and night sea fishing. The homestay offers both AC and Non-AC rooms and also has a decent multi-cuisine restaurant. The homestay even organises cycling trips in the island and excursions to Bangaram for turtle spotting. It is highly suggested for travellers who are planning for a serene and relaxing vacation.
Kadmat island beach resort-Kadmat
https://interludejourney.files.wordpress.com
The resort at Kadmat gives complete concord and quietude at the quarantined southern edge of the island. Almost all the rooms of the hotel offer the fanciful sight of the surrounding creeks and dancing Dolphins and most photogenic sunrise. A well-equipped water sports organisation is functional at Kadmat, and the resort organises water sports activities too.
Bangaram Island Beach Resort- Bangaram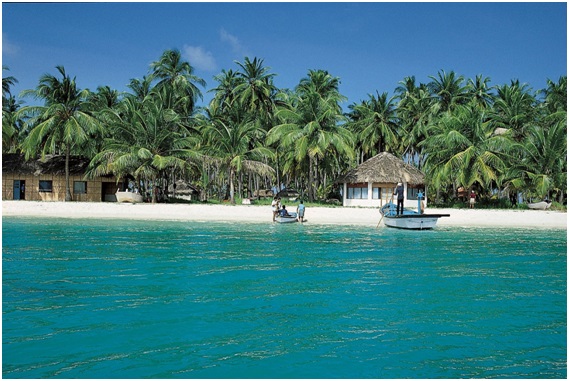 http://www.keralagreenery.com
Bangaram Island Resort is meant for top class global travellers. The lodging is elementary though contented and convenient, and the ambience is very rejuvenating.  The resort offers mouth-watering seafood and local delicacies. This 60-bed resort is well furnished with various equipment of Water sports and offer thrilling activities like catamarans, deep sea fishing, kayaking and underwater diving to explore fascinating coral reefs. The resort also has a beachfront bar serving an amazing range of fascinating wine, beer and mocktails.
Bangaram Island is famous for diving, and the resort offers guided diving activities for an absolutely fun experience.